Tourdates for Lahcen Akil et Imdukal N L Hussain Safir : see below (FR & BE)
Przepych 'Regresarabas' LP will now be released on the 25th of march! See the band on tour between the 17th of april and 6th of may (as below).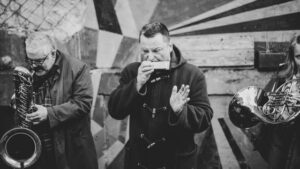 The release of Howie Reeves 5th LP 'Cracks' was successfully supported in a Kickstarter campaign which raised over 2000 pounds! Thanks for your support in this. Vinyl release will soon be out on Red Wig, Moncul and Bar Marfil Records.  Next concerts see below!
Up next in Hamburg: 27.04. – Housewives – Schute, 05.05. – PRZEPYCH – Schute