Tourdates for Lahcen Akil et Imdukal N L Hussain Safir : see below (FR & BE)
Przepych 'Regresarabas' LP will now be released on the 25th of march! See the band on tour between the 17th of april and 6th of may (as below).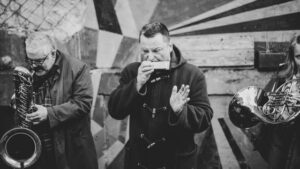 Support the release of Howie Reeves 5th LP 'Cracks' on Kickstarter! Vinyl release on Red Wig, Moncul and Bar Marfil Records. Please donate some pennies to make it happen! Go to: KICKSTARTER – 'CRACKS' – NEW ALBUM BY HOWIE REEVE Next concerts see below!
Up next in Hamburg: 27.04. – Housewives – Schute, 05.05. – PRZEPYCH – Schute
Next in Berlin: March 17, Fehre 6, Fehrbellinerstr. 6, 19:30 Uhr: MARAUDEUR – lofi postpunk z Ženevy https://maraudeur.bandcamp.com + HANDLE – postpunková kapela z Manchestru mimo jiné poskládaná i z členů D.U.D.S. https://absolutefiction.bandcamp.com/album/handle-demonstrations
Next in Wrocław: March 15, Kurws, Maraudeur, Handle @ Centrum Reanimacji Kultury