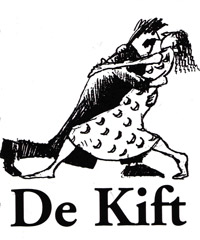 De Kift was formed in Holland in 1988. Their music has influences from punk, fanfare and folk. They are known for their special projects and collaborations, like an opera, theatre shows, movies and soundtracks for films and documentaries. De Kift got awarded with a Silver Harp in 2001 and a Silver Cricket in 2012. The band celebrates their 25th anniversary in 2013 with and archive-album, an anniversary-tour, a festival and a new album.
Dutch journalist Bert Wagendorp once wrote about De Kift: "De Kift were born in fanfare, baptised in punk and grew up in love for music and poetry. It's cheerful music, music full of melancholy. Music that brings a tear to your eye, or a smile upon your face.
De Kift inhabits a special place in Dutch pop history. Praised for going their own unruly ways and creating their wonderfully unique and stubborn sound. They emerged on the art/punk tides of the '80s and evolved into a stirringly original group that combines brass horns, folk music, lyrics adapted from literary works, choral singing, pots and pans, and quite simply a very expansive attitude toward music.
The band says they can't write lyrics, so they cut hidden treasures from the world's literature into lyrics for their music. They've used work from writers as Wolfgang Borchert, Jan Arends, Venedikt Jerofejef, Flannery O'Connor, Werner Schwab en Daniil Charms.
De Kift is also widely praised for their cd packaging. Their album Hoofdkaas (2008) was packaged by tearing up old cookbooks. Krankenhaus (1993) came in a cigar case.
12-01-13 Patronaat Haarlem
18-01-13 Victorie Alkmaar
24-01-13 Doornroosje Nijmegen
25-01-13 Paard Den Haag
26-01-13 Manifesto Hoorn
01-02-13 Recyclart Brussel (B)
02-02-13 4AD Diksmuide (B)
07-02-13 Vera Groningen
08-02-13 Vera Groningen
09-02-13 Tivoli Utrecht
16-02-13 OCCII Amsterdam
21-02-13 Luxor Arnhem
22-02-13 Effenaar Eindhoven
28-02-13 LVC Leiden
01-03-13 Patronaat Haarlem
08-03-13 Gebouw T Bergen op Zoom
09-03-13 OCCII Amsterdam
more info: dekift.nl/
---