Massicot 7 Songs
King Ayisoba from Ghana – his response to hearing Massicot in the car: "this is a fine music!" Thats what we think as well. This is a split release between the band, mon cul de paris et red wig.
Massicot est basé à Genève depuis 2009. Une guitare rythmique obsessionnelle, une basse trafiquée, un violon électron libre, une batterie tropical kraut emmenés par de la poésie lettone, forment un amas,une constellation de dinosaures électriques, d'ananas importés, de dessins de nuages, de rythmes enchevêtrés et de gags dadas. Avec l'agressivité d'un tigre en formica, Massicot oscille entre des moments franchement bruyants et énergiques et des phases hypnotiques et répétitives.
With the agressiveness of a tiger in Formica, Massicot oscillates between frank and noisy moments and hypnotic, repetitive phases. An obsessive, rythmic guitar, a modeled bass, a violin as an free electron, tropical kraut drums led by latvian poetry form a mass, a constellation of electrical dinosaurs, imported pineapples, cloud-drawings, intricate rhythms and Dada-jokes. …
mon cul 56 – red wig 009 – out august 18th 2013.
X-Mist records schreibt im Dezember-Newsletter (2013):
MASSICOT s/t – Sehr originelle und eigenwillige Post-Punk Band aus Genf/Schweiz. Ein schräger, stark rhythmisch orientierter Sound. Seltsam, aber auch anziehend. Als erster Vergleich kamen mir da die frühen THE EX in den Sinn, aber auch frühe britische Post-Punk Bands wie die MEKONS oder FIRE ENGINES. Trotzdem haben MASSICOT ihren eigenen Stil.
Review – OX-Fanzine 113, 2/2014 (April/Mai 2014):
LP // Red Wig // redwig.org // Stark rhythmusbetont präsentieren sich die vier Mädels aus Genf.
Verstörend und düster zeigen MASSICOT einen basslastigen avantgardistischen Hang zum dissonanten Dadaismus.
Post-Punk mit einer sehr eigenwilligen und einprägsamen Note, den es durchaus zu beobachten gilt. Keine Scheibe für Ungeübte.
(8) Jenny Kracht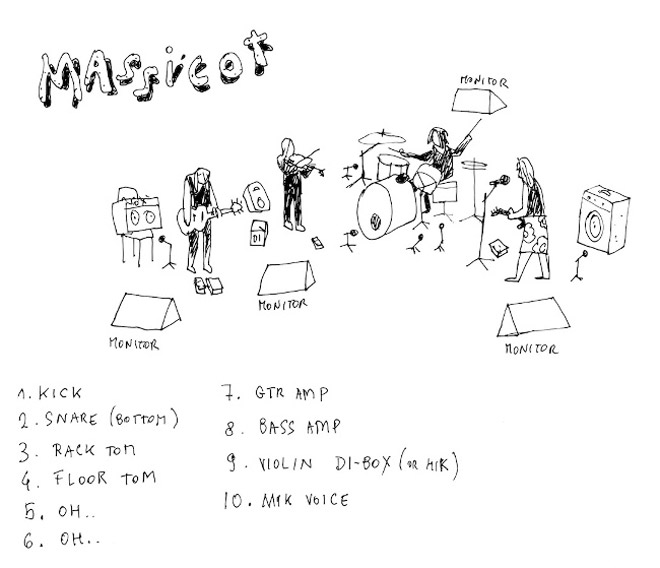 ---